About After Alice
• Hardcover: 288 pages • Publisher: William Morrow (October 27, 2015)
Down the rabbit-hole, where adventures await . . .
When Alice toppled down the rabbit-hole 150 years ago, she found a Wonderland as rife with inconsistent rules and abrasive egos as the world she left behind. But what of that world? How did 1860s Oxford react to Alice's disappearance?
In this brilliant new work of fiction, Gregory Maguire turns his dazzling imagination to the question of underworlds, undergrounds, underpinnings—and understandings old and new, offering an inventive spin on Carroll's enduring tale. Ada, a friend of Alice's mentioned briefly in Alice's Adventures in Wonderland, is off to visit her friend but arrives a moment too late—and tumbles down the rabbit-hole herself.
Ada brings to Wonderland her own imperfect apprehension of cause and effect as she embarks on an odyssey to find Alice and see her safely home from this surreal world below the world. The White Rabbit, the Cheshire Cat, the bloodthirsty Queen of Hearts—droll and imperious as always—interrupt their mad tea party to suggest a conundrum: If Eurydice can ever be returned to the arms of Orpheus, or if Lazarus can be raised from the tomb, perhaps Alice can be returned to life. In any case, everything that happens next is After Alice.
My Review
Gregory Maguire is one of my favorite authors. I love his Wicked series so much that I have the books in both print and Kindle editions - because I cannot be without them just in case I want to reread at a moment's notice.

So of course

I was thrilled to be able to read After Alice for a review.
I assumed that the story took place after Alice's adventure. It does not. This is the story of Alice's neighbor, Ada, who slips

down

the rabbit hole and goes off in search of Alice. It is also the story of the people left behind and their search for the missing children.
The use of language and the storytelling is beautiful in a stop-and-reread-this

-

passage sense. When Ada goes outside alone leaving her family, her new baby brother, her governess behind, the beginning of her adventure waits. "Ada is outside, alone: She is scraping against life the way her brother is. She is newly in the world" (p. 1

5).
The characterizations in this book are wonderful.

For instance, as we meet Ada's governess

: "Depending upon the hour, a governess in a troubled housewhold is either a ministering angel or an ambulatory muni

tions device. Behold Miss Armstrong, foraying in the upstairs corridor toward her employer" (p. 6).
The world that Ada finds is magical. She meets favorites from Alice in Wonderland, like the Cheshire Cat and the Caterpillar. She meets talking flowers and other strange and fascinating creatures. The clever word play

, especially in dialogue,

is reminiscent of Lewis Carroll

.
Maguire has a gift of making magic from an familiar and loved story, and this magic is in full force here

.

This year marks 150 years since Alice in Wonderland was first publis

hed. This book is a real treat waiting for fans of Alice.

Read it! You will not be disappointed.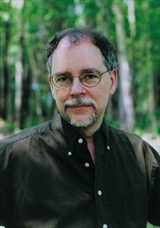 About Gregory Maguire
Gregory Maguire is the New York Times bestselling author of Confessions of an Ugly Stepsister; Lost; Mirror Mirror; and the Wicked Years, a series that includes Wicked, Son of a Witch, A Lion Among Men, and Out of Oz. Now a beloved classic, Wicked is the basis for a blockbuster Tony Award–winning Broadway musical. Maguire has lectured on art, literature, and culture both at home and abroad. He lives with his family near Boston, Massachusetts.
I received this book from TLC Book Tours in exchange for an honest review.